Prime Minister's Call to Consolidate Cooperation in Fighting Technology-Based Multinational Crime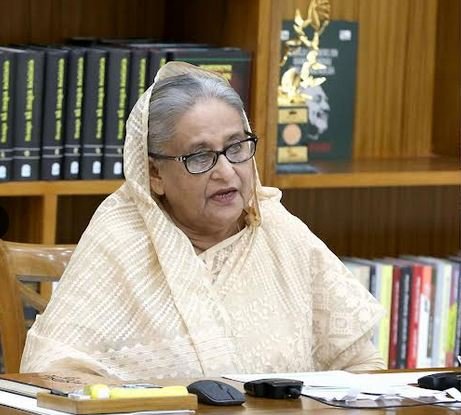 Dhaka, September 12, 2022 (Bass Desk): Prime Minister Sheikh Hasina has called for strengthening cooperation among the countries of the world to prevent anti-humanitarian activities caused by cybercrime and organized multinational crime by using new technology.
He said digitizing the police could be an excellent way to fight terrorism and money laundering, as well as violent extremism and other technology-based crimes. Currently, these crimes have created serious challenges in the performance of police duties around the world. In today's world it is not possible for any country to tackle these alone. Therefore, there is no alternative to consolidate the cooperation between the countries of the world to tackle these problems.
The Prime Minister said this as he ushered in the 11th annual Interpa conference to be hosted today at a hotel in the city by the Bangladesh Police Staff College from Gana Bhavan.
He went on to say that global peace and security can be guaranteed by institutionalizing a demand and outcome based platform to counter violent extremism and technology-based transnational crime.
The Prime Minister said we believe a significant difference can be made in global security through the collective will and concerted efforts of Interpa members.
He said that the main theme of this conference 'Digitization of the police' is really timely. Violent extremism and transnational organized crime pose a major threat to national and international security in this age of globalization where borders matter little.
He said new advances in technology and communications in recent years have enabled such criminal networks to carry out their anti-humanitarian plans with greater dynamism.
The prime minister said the destructive activities of terrorists around the world are having far-reaching destabilizing effects. New challenges arise in the form of cybercrime, money laundering, counterfeiting, terrorist financing and other modern threats.
Speaking at the conference, Sheikh Hasina said she believes that Interpa's unique conference, made up of professionals from police training institutes across the continent, will open new avenues for collaboration in advanced training, capacity building and sharing best practices.
The prime minister said he was proud that the Bangladesh police force has demonstrated its capabilities and resilience in successfully fighting terrorism and violent extremism.
Home Secretary Asaduzzaman Khan, Senior Secretary of the Public Security Department. Akhtar Hossain, Interpa President Prof. Dr. Yilmaz Kolak and Inspector General of Police and Session Chair. Benazir Ahmad spoke.
Sheikh Hasina expressed her satisfaction at the opening of the Interpa conference, saying: "We are fortunate to host this conference and are truly honored by your presence."
The prime minister said the government has had great success in building a happy and prosperous country according to the aspirations of the compatriots.
He said we have made the desired progress on all social indicators. The government of the Awami League has taken effective measures to ensure the general progress of the country and improve the quality of life of the people.
Sheikh Hasina said that as a result, the desired progress has been made in the fields of economy, agriculture, education, health, science, technology, electricity, fuel, trade and business, social security and other fields.
He also said that we are on our way to the successful implementation of SDG. Marginalized populations are also increasingly benefiting from information technology.
The prime minister said they have taken all steps to transform the country into a 'digital Bangladesh' by making information technology accessible to all, including marginalized people, through efficient, service-oriented and ICT-friendly services.
He said we have already gone from a less developed country to a developing country. We can proudly say that Bangladesh has secured its place on the world map as a 'role model' for development.
Sheikh Hasina said that in line with globalization, Bangladesh has joined the highway of development and this extraordinary height testifies to her country's continued success in every field.
He said that the police force of Bangladesh also plays an important role in our progress and development. Due to the development activities of our government, there has also been a significant qualitative change in the police force. We will continue this police progress in the coming days.
The Prime Minister wished the conference's success and believes that the conference will provide an opportunity for all INTERPA member countries to reach a common consensus in search of an innovative, sustainable, rapid and effective form of communication and cooperation.
We also believe that improved technology, skills, intelligence sharing and coordination among the law enforcement agencies of these countries will greatly contribute to combating violent extremism and advanced technology-based multinational crimes around the world.
Sheikh Hasina pointed out that many agreements have brought us closer together, said Sheikh Hasina, that a synergy should be created for greater cooperation to promote world peace, stability and development.