Walton, Bangladesh's largest electronics brand, is constantly adding innovative technologies and advanced features to TVs through extensive research. Following this, engineers from the Walton Research and Innovation (R&I) department added fire extinguishers built into the television technology. Walton invented the world's first television with fire extinguishing technology.
On Wednesday, October 12, 2022, the inaugural function of Fire Extinguisher Integrated Television was held at Walton's headquarters in the capital.
German Ambassador to Bangladesh Akhim Troester and Managing Director and CEO of Walton Hi-Tech Industries Plc Golam Murshed unveiled the world's first fire extinguisher feature.
At that time, the German Ambassador presented Walton with the certificate of the world's leading manufacturer of fire extinguishers with built-in safes.
The event was attended by Job Group's Senior Business Development Manager, Markus Fiebig, Director of AI Business Solutions Malaysia. Arifuzzaman, Additional General Manager of Walton Hi-Tech Industries Abul Bashar Howlader, Deputy General Manager Nazrul Islam Sarkar, Eva Rizwana Nilu and Md. Humayun Kabir, Senior Executive Director SM Zahid Hasan, Chief Engineer of Walton TV (CBO) Mostafa Nahid Hossain and others.
Golam Murshed, Managing Director and CEO of Walton Hi-Tech Industries, said at the event, "We are working to make Bangabandhu's dream of a golden Bangladesh a reality. Our vision is to make Walton one of the world's leading electronics and electrical brands by 2030. Walton TV with built-in E-bulb device fire safety will further enhance our product safety and brand value. . By ensuring the safety of our products and our customers, Walton Television will be recognized as the best electronic brand in the world. All of these groundbreaking innovations will help us achieve our 2030 Vision.'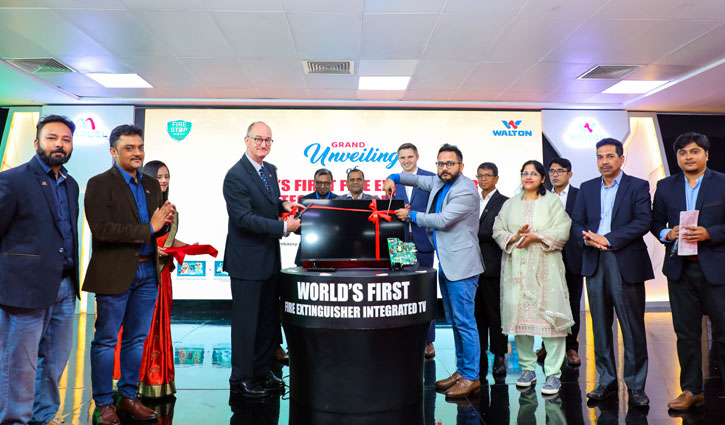 German Ambassador Akhim Troester, Managing Director and CEO of Walton Hi-Tech Industries Gholam Murshed and other guests at the unveiling ceremony of the world's first fire suppression technology invented by Walton.
At the event, German Ambassador Akhim Troester said, "We unveiled the world's first integrated TV with fire extinguisher invented by Walton during the celebration of 50 years of Germany's recognition of independent Bangladesh. Over the past 15 years, the economy of Bangladesh has improved tremendously. Bangladesh is becoming a middle income country instead of a less developed country. One of the beacons of this economic development of Bangladesh is Walton. By manufacturing high-tech products like refrigerators, televisions, Walton is changing the image of Bangladesh and making a positive brand image in the outside world. By establishing business relationships with German companies and exporting televisions, Walton advances the existing cooperative relationship between Germany and Bangladesh.
Mostafa Nahid Hossain, CBO engineer of Walton TV, said electronic devices can catch fire due to voltage fluctuations or overloads, rust, electrical short circuits, etc. To protect consumers from such fires, Walton has integrated the world's first mini E-Bulb fire extinguisher into the motherboard of a television.
He added that the electronic bulb is a fire extinguishing fuse and consists of a coated glass bulb filled with a non-toxic extinguishing agent. It automatically detects and shuts off power when an electronic device catches fire. E-Bulb Mini Fire Extinguisher is used on Walton TV motherboard to prevent fire due to electric short circuit. E-bulb technology won a UK Safety Innovation Award in 2020.
Note that Walton is the country's leading exporter of refrigerators, televisions, washing machines and other electronic products. Walton exports "Made in Bangladesh" televisions to more than 35 countries, through hundreds of business partners. Nearly 95% of Walton TV's total exports go to developed countries in Europe.